Pumpkins are a must for autumn porches and gardens. However, the same seasonal porch displays with a hay bale and scattered pumpkins and squash can get a little monotonous. We've compiled a list of autumn-themed pumpkin decor ideas to help evoke some inspiration for your displays!

Pair with Fall Flowers  
When it comes to fall decor, pumpkins are the GOAT (greatest of all time), so why not pair them with some iconic fall flowers on your front porch? Autumn provides a generous variety of warm colors to decorate with; alongside your pumpkins, these Mississippi flowers would look great on your front porch:
Marigolds:

Orange marigolds help create a monochromatic orange garden to match your pumpkins and achieve a clean, well-balanced look. 

Pansies:

These Fall and Winter beauties come in a huge variety of colors and last until Spring. You can bring so much life to your pumpkin display with this beautiful plant.

Snapdragons:

Great for adding height to your planters. Snapdragons come in lots of Fall colors and will also bloom all through the Winter and into Spring. 

Chrysanthemums:

Fall mums are the perfect flowering plant to help you achieve autumnal tones in the garden. With shades of orange, yellow, red, and more, they look excellent placed alongside pumpkins and other gourds. 
Front Porch Wreath
Who doesn't love cozying up on a crisp autumn Saturday and tackling a fun DIY project? This pumpkin-themed front porch wreath will be the finishing touch to your front porch display to tie everything together. A rustic straw wreath, some miniature pumpkins, and craft wire are all you'll need for this easy project. 
To secure your mini pumpkins into your wreath:
Attach them to a wreath frame with wire.

Fill the gaps with moss or foliage.

Put a black bow on the wreath or add some fall flowers like sunflowers from your garden to create an extra special display.

Hang it on your door, and voila! 
Painted Jack-o-Lanterns 
Make this family-friendly DIY craft with your kids! There's a good chance you've already seen this trend on Pinterest, and that's because it's simple, affordable, and leaves you with some gorgeous autumnal decor. Simply gather some paints in various fall colors and get out your paint brushes. 
Consider painting your pumpkins in black and white to add a sense of modernity to your display, or add some glitter and gold for some jazzy accents. Chalkboard paint on pumpkins is also a fun way to let your kids personalize their designs, and they can update them every day with chalk when they come home from school!

Pumpkin Pot Centerpiece 
Thanksgiving is coming up soon, and what better way to wow your guests than with a gorgeous pumpkin-themed centerpiece on your dining room table? A popular trend is to gut the insides out of a pumpkin and fill it with an arrangement of fall flowers, like sunflowers, marigolds, and calla lilies. You can even paint the pumpkin and add some ornamental grasses to match your dining room aesthetic. Accent the display with some candles and fall leaves from your backyard, and you'll have a cozy and beautiful centerpiece. 

Front Porch Planters
You can't go wrong with pumpkins and front porch planters! To create a unique look, try adding pumpkin-like vines or foliage to your planters, and place your pumpkins amidst the plants for an overgrown, abundant aesthetic. Make sure the pumpkins you purchase from your local garden center are large enough to fill your planters but not so big they're falling over! This decor idea is great for those balling on a budget or looking for a fool-proof fall planter design.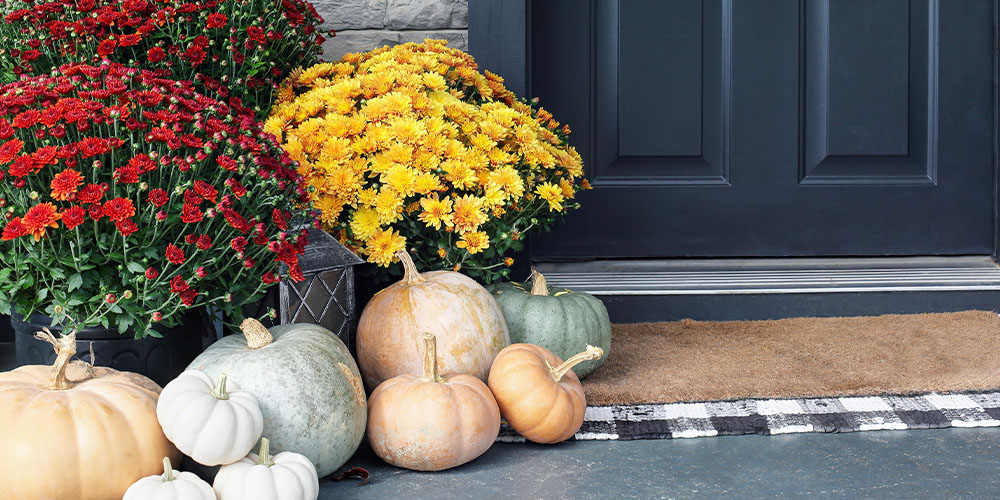 Adding a burst of autumn color to your empty containers is the perfect way to welcome the Fall season. Come see us at Pine Hills Nursery in Pass Christian for more Mississippi porch decor ideas—our pumpkins are sure to help you create a gourd-geous display!