You may not know the scientific name, but you've definitely seen this tree before in Mississippi—it's our state tree, after all! The Magnolia grandiflora, or Southern magnolia, is an adaptable evergreen tree that is beautiful in any landscape; learning these care tips will help you nurture a gorgeous specimen that brings pride to our state and your home!

About Magnolia Grandiflora 
Magnolia grandifloras are known for their beautiful dark green foliage and delicious-smelling flowers. A magnolia tree grows to 120 feet and is a medium to a large flowering tree. The overall growth shape of the tree looks similar to a pyramid, with beautiful, brilliant-smelling foliage adorning its branches. The bark is gray or brown in color, with a smooth texture that roughens as the tree matures. These versatile evergreens thrive in southern climates and can tolerate a wide range of soil and light conditions—perfect for Mississippi! Flowers of Magnolia grandiflora bloom during late spring and decorate the landscape beautifully. 
Soil Requirements
Magnolia grandiflora benefits from moist, well-draining soils that are loamy and fertile and have a lower pH. That said, it can adapt to a wide range of soil conditions, provided that its other care requirements are met. The acidity levels should ideally fall between a pH of 5.0 and 6.5, but neutral to slightly alkaline soils will also suffice. Consider adding organic matter to your soil, like compost, manure, or coffee grounds, as magnolias love the added nutrients and acidity. 
Water Preferences
In two years of watering only once per week, these evergreen flowering trees develop strong roots and adjust to the environment very well! A newly planted magnolia only requires watering twice per week. After your tree has matured, you'll only need to water it twice a month to keep it looking gorgeous. The low maintenance watering schedule of Magnolia grandiflora makes them an easy addition to your landscape that you won't have to fuss over while it grows.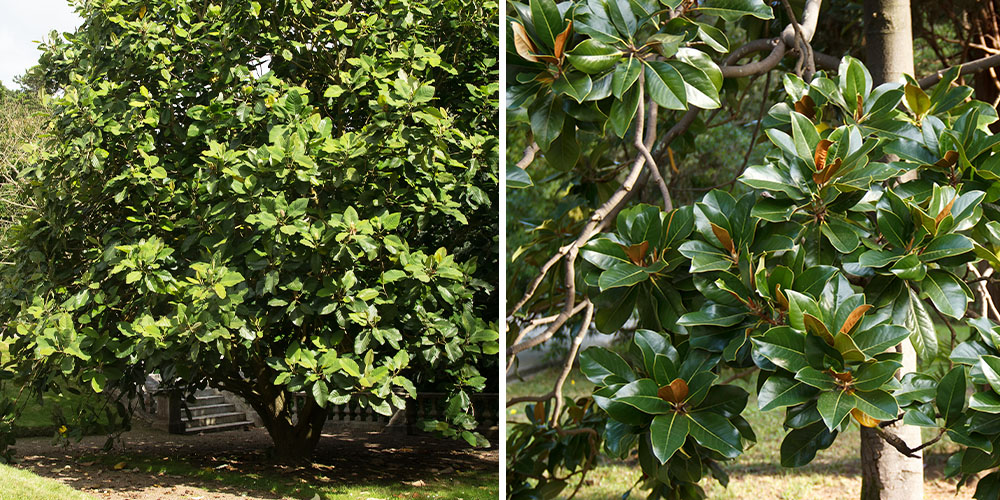 In fact, overwatering can be harmful to your magnolia, so you'll want to monitor your watering schedule accordingly to ensure you don't experience root rot or any fungal issues. If you are overwatering, you may notice that your plant has yellow or brown leaves that are wilting. These conditions also happen when you underwater your plant, so it can be difficult to gauge just how much water your plant needs. Use your Magnolia grandiflora's soil moisture to decipher if your tree has the correct amount of hydration. Measuring the soil moisture is as simple as sticking a 6-inch wooden stake in the soil around the base of your magnolia tree; if it is moist after you pull it out, your tree still has access to water below the surface, and you can hold off on your next watering.
Light Requirements
Magnolia grandifloras tolerate a diverse range of light conditions, from bright sunlight to partial or full shade. Versatile in their nature, they are suitable for planting in a variety of different areas, and you can let them grow independently for many years to come. They thrive best, however, in a location where they can receive bright full sun.

How to Prune Your Magnolia Grandiflora
Only prune your Magnolia grandiflora when necessary, as they can wound from unnecessary pruning. Magnolias that are young do not typically require pruning. Once your tree has fully grown, you can prune it to remove any dead or damaged growth and dispose of it in your compost (as long as the debris is not diseased!). Always reserve pruning until after the blooming season so that you don't cut off any of next year's buds by accident! We also recommend watching for suckers around the base of the tree. With a bit of care, you'll have a gorgeous magnolia that your whole neighborhood will enjoy!
Nothing screams Mississippi more than a beautiful Magnolia grandiflora. Visit us at Pine Hills Nursery in Pass Christian, Mississippi, today for all your local plant care and landscaping needs!