Have you ever tried planting a combo pot? It's so much fun, and the results look incredible! By following a simple formula, you can create custom container arrangements that look professionally made for a fraction of the price of a preassembled planter. Here's what you need to know and some creative ideas for plant containers to get inspired!

Everything You Need for a Colorful Custom Combo Pot
When you're planting a combo of different plants in a container, you'll need to pick flowers and plants with different shapes and textures to create balance and contrast. We recommend planting at least one plant for each of the following three categories:
Thrillers: Tall, look-at-me plants with bold color and texture, acting as the main focal point of your container garden. 
Fillers: Mounded, lush plants that maintain an even shape and won't get too unruly, filling the gaps around your thriller plants.
Spillers: Trailing plants that spill down the sides of the container as a dramatic border that fills the outer edge. 
For example, try planting tall ornamentals like Variegated Yucca for your thriller, some vibrant Echeveria rosettes as your filler, and a trailing Sedum like Burro's Tail for your spiller.

Planting Compatible Plants Together in Containers
Picking the perfect plants for your combo pot isn't just about aesthetics. Planting compatible plants is essential; if you put two plants with different needs in the same pot, it will be impossible to keep them both happy. For instance, a fern that needs consistently moist soil and partial shade won't be happy in a container with a sun-loving succulent that needs infrequent watering. Check the sun and water requirements of your top picks before planting them—you want to make sure they'll be friendly neighbors!

Heat-Tolerant Options for Planting in Combo Pots
Our Mississippi heat can get pretty intense during the summer! If you want to be sure your container gardens are looking on point from spring until fall, stick to planting heat-tolerant plants that thrive in the sunshine. Here are some options we recommend!
Heat-Tolerant Thrillers:
Yucca

Cannas

Purple Fountain Grass

Cordyline

Colocasia

Salvia

Alocasia

Chinese Fan Palm
Heat-Tolerant Fillers:
Echeveria

    

Sempervivum (Hens n' Chicks)

Lantana

   

Heuchera

Coleus

    

Strawflower

   

Marigolds

SunPatiens
Heat-Tolerant Spillers:
Purslane

    

Burro's Tail

Vinca

    

Supertunias

Creeping Jenny

    

Sweet Potato Vine

Portulaca

   

Bougainvillea
Combo Pots: Care After Planting
After you've finished planting your combo pot, water it generously; this will help those roots spread and get established. Depending on your chosen plants, it's very likely that you'll need to water every day to keep your plants hydrated and their roots insulated from extreme heat. The best time to water your combo pot is early in the morning before the sun has had a chance to heat up the soil. Make it part of your morning routine while you wait for the coffee to finish brewing!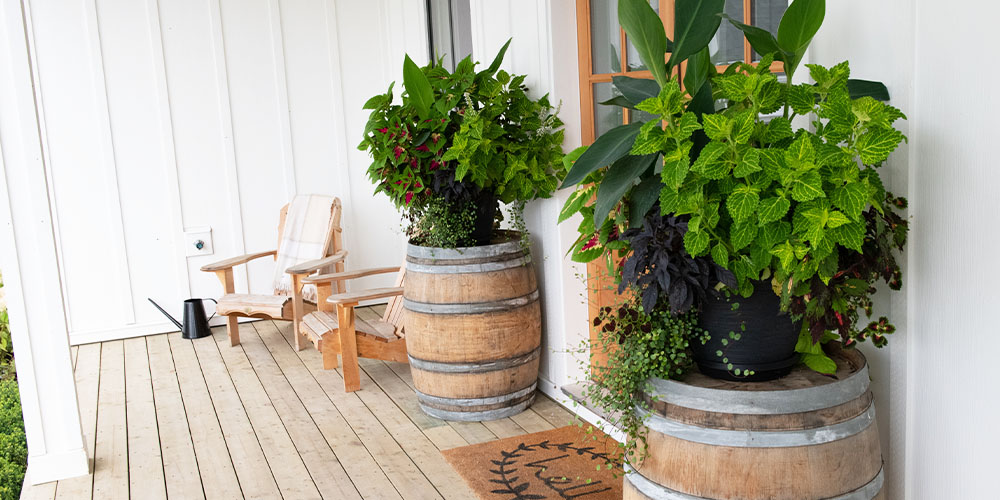 Regularly fertilizing your combo pots is essential for ensuring they continue growing healthy and lush, with plenty of vibrant foliage and blooms. This is especially true if you're growing summer annuals—they need lots of nutrients to support their massive growth spurt. Use an all-purpose water-soluble fertilizer once per month until the end of the growing season, and consider additional timed release fertilizer like our Grower's special. Mixing compost into the potting soil will also help bulk up the soil with nutrients. 
Depending on what you're planting, you may need to deadhead some of your flowering plants as their blooms fade to encourage reblooming. Simply pinch off the dead flowers with your thumb and forefinger and toss them into the compost bin.  
How Do I Choose the Right Container for My Plant?
Anything with a deep enough reservoir to hold soil can be a container for your garden—there's so much room to get creative! Old drawers, wagons, barrels, bathtubs—the options are limitless! That said, it's a good idea to avoid metal containers in Mississippi during the summer because they heat up quite a bit in the sun and may stress out your plants. We also have plenty of pots and planters in various sizes, shapes, materials, and color patterns if you'd like to put together a pretty, polished design that matches your ideal aesthetic. 
Ready to start container planting in Mississippi? Visit Pine Hills Nursery to explore all the gorgeous heat-tolerant annuals, perennials, herbs, and other garden delights that are ready to plant now for summer!