Children love exploring the natural world. It's the ultimate storehouse of wonder and imagination for their impressionable minds and infinite curiosity. Simply being among the trees, birds, and butterflies is often enough to hold their attention, but only for a short while! If you need more ideas, here are some activities—from scavenger hunts to gardening—that you can do with your children in nature!
Scavenger Hunts 
Set up a scavenger hunt right in your backyard or the nearest park. You can give your kids clues, riddles, signs, or directions to follow that will guide them towards objects in the forest like rocks, animal footprints, plants, or pine cones. Next time you're out for a walk, start building a list of things your kids can hunt for next time!
Foraging 
Just like a scavenger hunt, foraging is another way to unleash your kids' inner detective and get them learning about nature. They can gather berries, nuts, edible plants, or even beautiful blooming flowers. Remember only to forage where it's legal to do so and practice proper etiquette, like leaving enough for the wildlife to eat and not diminishing or harming the plants you forage.   
Hide and Seek
When they've had enough of scavenging for plants, a game of "hide and seek" is the perfect game that comes so naturally in a forest! You can also try the reverse of hide and seek, known as "sardines," where one person hides, and everybody seeks. When you find them, you start hiding with them, and the game goes on until everyone gathers in the hidden spot. 
Backyard Art 
Nature and creativity are two things that every child loves. Combine them by making art in the backyard! They can make collages of leaves, flowers, or other found items or paint the clouds, trees, or birds around them. They might also try using leaves to make imprints of the veins.   
Backyard Phenology 
Phenology is the study of nature's calendar; it's observing what's happening throughout the seasons, like when flowers bloom, bird eggs hatch, and butterflies emerge. It's a fascinating way to learn about the cycles of nature that are happening all around us. Set up a time to make observations every week, and ask them to record their results in a journal, which they can also decorate with art.  
Backyard Camping
Set up a tent in the backyard for the night, do your cooking outside, and tell some campfire stories. You don't have to go far to get a camping experience, and you'd be surprised at how magical it can be in your backyard at night. It's an easy way to stoke the kids' imaginations and get them having fun right at home.  
Nature Walks
The age-old tradition of nature walking is a great way to stretch their legs and venture deep into the other worlds of a forest. Exploring new parks and ravines is a great way to keep your kids interested in routine walks! They'll meet birds, animals, and trees along the way and enjoy the fresh air while exercising their bodies. 
Gardening 
We may be biased, but gardening is another great way to get the kids in nature right in your backyard. Get them planting, hoeing, digging, and watering—the muddier, the better! They'll learn valuable skills, reap a rewarding harvest, and make memories to last a lifetime, with delicious homegrown food as a reward.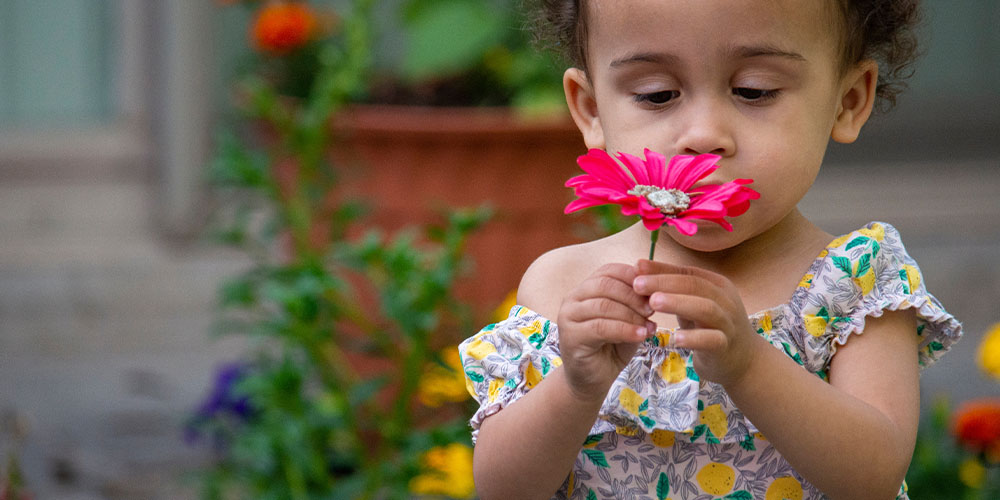 What would childhood be without trees, butterflies, insects, and birds? This is the stuff that makes the most impressions on our senses and forms our most precious memories. There are many ways to let kids play in nature—from phenology to gardening to scavenger hunts. Be sure to enjoy exploring nature with your kids, too. You're never too old to explore the outdoors!
For any gardening supplies, tools, or other ideas to nourish the nature in your backyard, visit our nursery in Pass Christian, Mississippi!